Got a character you want to show off but have no idea how to introduce them? Here's your chance. All universes can apply here so long as they're noted, and don't hesitate to give as much detail as you can -- pictures are also recommended.
I'll post my own later I just want to give everyone the go-ahead.
_________________
Spoiler:
Here's a character for a webcomic I'm planning on making sometime in the nebulous future! His name is Project Monster, an artificial lifeform created in a laboratory and raised in secret by two scientists responsible for creating him.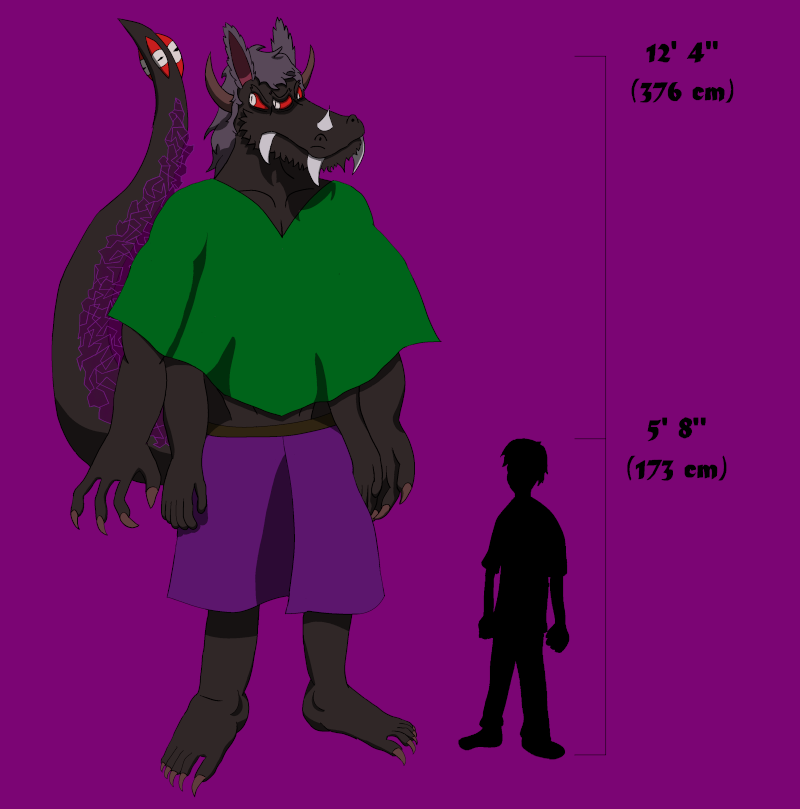 I've also got a 3D model of him which looks a lot less wonky:
https://sketchfab.com/models/b474b431f36346c59108975377bb7945
Despite his intimidating size and angry appearance, he is a very outgoing person. He loves to meet new people and see their reactions to his monstrous shape, and he likes to mess with people by making up crazy stories or facts about himself. This goes far enough to become a tendency for him to meddle in others' affairs, and he sometimes ends up hurting people's situations rather than helping with them. Despite his nosiness and penchant for trolling, Project likes people in general and wants to make those he meets happier in the end. He loves movies and television shows, as well as how they're made, and enjoys discussing and critiquing them.
On the biological side of things, he was designed seemingly very haphazardly. At the beginning of the webcomic he is only eleven years old, yet twelve feet tall. He is designed to grow to be around fifty feet tall once fully matured, and as a result, he is incredibly strong and lightweight for his current size. He has four functioning eyes on the back of his tail which allow him to see in all directions around it, and he has a cluster of crystals which sprout from his back that contain excess nutrients and energy from the food he eats. When he is tired or in danger, the crystals are pulled back in and redigested to give him more energy. They're not shown in the picture or the model, but he also possesses leaf-like appendages that can unfold from his back to form a large canopy behind him. This surface can perform photosynthesis, and a few hours under direct sunlight can substitute the need to eat for a day or two.

Recursive Sweatpants




Posts

: 44


Join date

: 2014-07-03


Age

: 24


Location

: The Mystical Land of Salt Lake City, Utah



I absolutely love that design, Sweats.

SkullDevil




Posts

: 8363


Join date

: 2014-07-01


Age

: 24


Location

: Pot Land



This is a Ratchet and Clank OC that I've been working on the past few days, and I'm planning to create a roleplay blog for this Thug on Tumblr sometime later in the future.
I think it's a bit rough, and not thoroughly finished, so I will draw him again later.

Pr0t0 Zer0




Posts

: 146


Join date

: 2014-07-02


Age

: 20



Well, at the very well least, I'll introduce my main two characters.
This may get long, so I'm spoilering them just in case.
Logan Runesat:

Robert Logan Runesat, perfers to be called by his middle name in lieu of his first. Commonly about 20 years old, though his age can change depending on the circumstances in which he is used (though this goes for all my characters.) Out of all of my characters, this is likely the one everyone on the forum is the most familiar with, as he is basically my main avatar. He has family, namely, a mother and a deceased father, an estranged sister, and a grandmother. He has additional family, but these are the most immediate. As a Pokemon Trainer, he hails from the Sinnoh Region, born and raised in Eterna City. His first Pokemon is not a Floatzel as one might think, but a Cyndaquil, which has now evolved into a strong and somewhat protective Typhlosion. A Buizel, later the portly-yet-adorable Floatzel, came second. During his travels, his team has grown, and he has been to at least four regions so far: His own, Sinnoh, Johto and Kanto (not including the Sevii Islands), and Hoenn, where he has met with a friend that he has long since parted ways with. He does wish to go back someday, however, but hasn't. He has also studied in Unova at Castelia University, where he met another member of his team, a Beartic, previously an orphaned Cubchoo, travelling back to Sinnoh through Mistralton Airlines one Winter day. He has not, however, travelled the region as a trainer, nor has he been to the Kalos Region, though he has planned on going there in the future.

He is commonly seen in a dark-blue hoodie with a scarf poking out of it, though if the weather is warmer, usually, a light-blue shirt is underneath, but he still wears blue jeans no matter what the weather. He also wears dark-gray flat-footed shoes, which he finds easy to run in. He carries most of his things in a large shoulder-bag, including some of his own devices, should he take one with him. For food, he usually picks berries he finds fit enough for both human and Pokemon consumption, though he does miss his mother's own home-cooking... and the occasional binge of junk food.

(Team Information TBD)
Annette Milta:


Annete Milta, AKA Annie, much to her chargin, also lives in the Sinnoh Region, particuarly in the richer parts of Eterna City, but her family hails all the way back to the beautiful, somewhat royal Kalos region, where her grandfather, Bertram Milta, was born. She learned to be a trainer mostly from her grandfather, and had her Pokemon as early as age 7 -- a Piplup she dubbed Rachel, who has been her dear companion even after she became an elegant, if somewhat stuck-up, Empoleon. She is an only child, unlike Logan, but is proud enough of herself to think that she'll always be stronger than him. She has additionally been to more Regions than Logan has, or so she says.
With flowing, but curled ginger hair, a curvy body, expensive spectacles, a green sweater and black skirt, she's about one year younger than Logan is, at 19, and her birthday is October 10th. She has a full team, though she is not to immediately disclose it to people she does not respect. As for who she respects, though, Logan is indeed one of the few, whom she considers if not stronger than her, a worthy opponent still. Though she still refers to Logan's Floatzel as a "mangy rat", much to not just Logan's frustration, but Floatzel's as well -- how can she not find him adorable?!
_________________
Spoiler:
---
Permissions in this forum:
You
cannot
reply to topics in this forum